A lot of you have more than one Google account, often a company account and a Client account. If you have like fifteen accounts then logging in and out can be a complete pain! But here we will show you a better way:
STEPS:
Click on the Chrome three vertical dots icon, located in the upper right-hand corner and select Settings.
Click on the Add Person

A new pop-up window will open. Enter the name of the new account you want to manage and choose an icon to quickly refer it.
As soon as you will click on Add, a new chrome window will open where you can login using the credentials associated with that account.
Log in to the Gmail account and you will see it will have all the settings associated with that account.
Chrome allows individual users to associate their local browser account with their Google Account. The main benefit of managing accounts this way is the ability to instantaneously sync all bookmarks, apps, extensions, themes, and browser settings to the account.
To sign in to Chrome and enable the sync feature, you must first have an active Google Account. Next, Go to the Chrome Settings option and click Sign into Chrome. Enter your credentials and it will pop up this-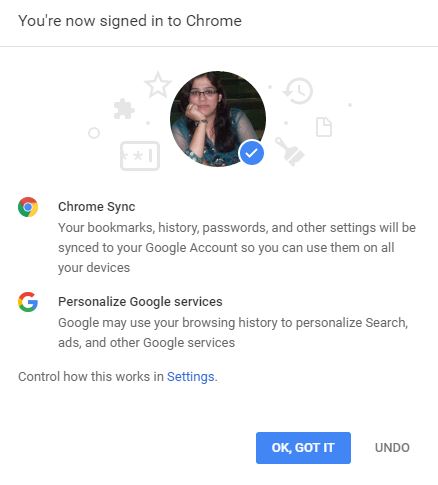 Click on Ok, GOT IT. You will be prompted to enter Passphrase. Click on it and you will see a pop-up window which will ask which settings you want to sync and passphrase to secure your account.
You will see two chrome icons now as below belonging to the two different accounts you have –

See the tutorial here – https://youtu.be/vnYFZSBmNR4. It first shows the wrong way we manage multiple accounts and then how can we correct it.