SCREENLEAP
Have you ever faced a situation where you want to share your screen with your client and they don't have the right tools like Skype or Skype for Business at their end to get connected and you spent a significant amount of time setting up the right infrastructure? If yes, we have got one of the best no installation tool for screen sharing and taking screenshots.
Screenleap makes it truly effortless to share your computer screen. You can share your screen with several people with no downloads, account setup, or cost required. Clients and colleagues can view your computer from their laptops, desktops, or mobile devices without having to install anything.
Steps:
Go to the site http://www.screenleap.com/.
Select the Pricing and Sign Up section on the top-right corner.
Select the Free plan.
Fill in the Sign Up for free Account form with your details and click on Create Account button.
Click on Broadcast My Screen button. It will start a download and give you the next steps to be followed.
Click on the screenleap.exe file that you just downloaded to run it.
Click run when the security dialog opens.
After the app is installed, Click here to open the new dialog. Check Remember my Choice and Click Launch Application.
You will be given with a link. Just pass it on to the person with whom you want to share the screen and start collaborating.
You will see a tiny window pop-up that says your screen is shared. You can change the sharing area by selecting Share inside rectangle from the drop-down box, pause the sharing, or stop it totally from this window. There's also a viewer calculation in the top right-hand corner.
You can also use this as chrome extension –
Download – https://goo.gl/OM9vgO
ZOOM
Zoom groups' simple online meetings, group messaging, cloud video conferencing and a software-defined conference room solution into one easy-to-use platform. It offers the best video, audio, and wireless screen-sharing experience across all the platforms. Founded in 2011, Zoom's mission is to make video and web conferencing effortless. You can also record your meetings. With the free version, you can record up to 45 minutes of your meeting.
Steps:
Go to the site: https://zoom.us/
Click on the Sign Up for Free button on right –top corner.
Enter your work email address and click Sign Up. A confirmation email will be sent to the entered email id. Click on the confirmation link.
Enter the details in the next page and click Continue. You will see a screen as below: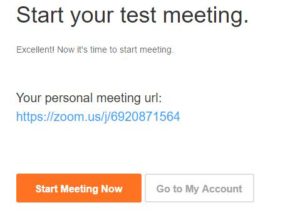 Click on Start Meeting Now and you will see below:
Copy the URL and share with the person you want to have a meeting. They will be prompted to install the setup first.